FAQ Digital To TV
Welcome to the Digital To TV Frequently Asked Questions (FAQ).
Please, click on each item to get an explanation:
Why DVB-T?
Our DTTV (Digital To TV) system exploits the benefits of DVB-T technology as a digital TV modulation. This new technology, in the same way as the analogue TV modulation in the past, was initially developed and intended for broadcast applications but it can also be used for TV signal distribution over coaxial cable with great technical and practical results. This includes conventional cable TV, any SMATV system or even wireless cable such as MMDS.
Television broadcasting all over the world is by far the technology that arrives to the highest number of homes. Satellite or cable TV services stay normally at a substantial distance below. As a consequence TV sets tend to incorporate compatible receivers as a standard feature and therefore it makes a lot of sense to use the same modulation schemes for any other applications. At the end of the day you don't need any special receiver and that's a positive point.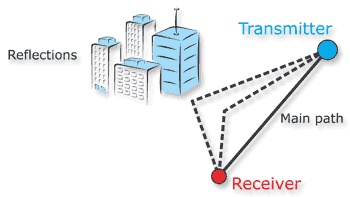 Right now we are in the transition from analogue to digital and most newly made TV sets have a built-in DVB-T receiver. In any case external DVB-T set top boxes are easily available and cheap. Wherever you now use an analogue TV modulator you can use a DVB-T modulator. That's the idea.
Why is Transport Stream always MPEG-2 even if it has programmes in MPEG-4?
We are right now living the migration process from analogue to digital TV with a "digital only" scenario just around the corner. There is a name that appears constantly whenever we speak about digital tv, the transport stream (TS). We can say that the Transport Stream is the "baseband video" of the digital TV world. This is not completely true because they are actually two different things but the comparison helps the purpose of understanding the basics before going into the subject in depth.

The Transport Stream (TS) is made of a sequence of MPEG-2 packets that contain information about a variety of things:


Video packets. Samples of information from the digitised video signal, brightness of a picture pixel, colour information, etc...

Audio packets. Samples of the digitised audio signal.

Data packets. Samples of data services.

Table packets. The TS includes a lot of tables containing different information. The most interesting one for us is the SERVICE LIST but we will come back to this one late.

Others. All other data packets not intended for user applications. They appear more frequently that it may seem at first right.

The data carried inside the TS MPEG-2 packets (also referred to as payload) can be of different types. It can be for instance a sample corresponding to a video programme that has been compressed using MPEG-2 or another video sample from a different programme that was compressed using MPEG-4 in this case, etc...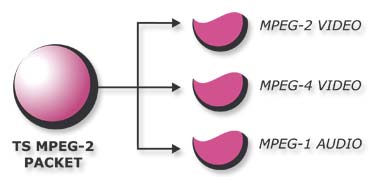 What is the difference between BIT RATE and SYMBOL RATE?
TS MPEG-2 packets "appear" at different speeds, slow, fast, and that is determined by the Transport Stream bit rate. TS can actually have a large variety of bit rates depending on the number of programmes contained, the video bit rate for each programme, etc...
Typical values may run from few Mbps to figures over 50 Mbps. In this case Mbps means Mega Bits Per Second and stands for a BIT RATE. This is important because there are other "rates" we use in the digital TV nomenclature:
Symbol Rate. We can also say Baud rate. Number of symbols per second, i.e. 27,5 Msps.
Bit Rate. Number of bits per second, i.e. 45 Mbps.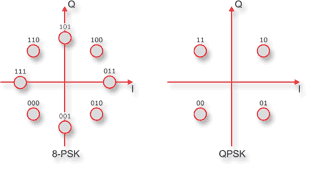 There are different factors to take into account to stablish the relationship between symbol rate and bit rate.
Modulation scheme: QPSK, 8PSK
Code rate: 3/4, 9/10...
Reed Solomon: Used in DVB-S but not in DVB-S2
TS bit rate is obtained according to the following formula:
bitrate = symbolrate x coderate x bitsconstellation x reedsolomon
Following are various examples:
MODULATION

SYMBOL RATE

CONSTELLATION

CODE
RATE

REED
SOLOMON

TS
BIT RATE

DVB-S QPSK
DVB-SS QPSK
DVB-S2 8PSK

27.5 Msps
27.5 Msps
22.0 Msps

2 bits per symbol
2 bits per symbol
3 bits per symbol

3/4
3/4
2/3

188/204
-
-

38,01 Mbps
41,25 Mbps
44,0 Mbps
Why must Bitrate be reduced when transmodulating from QPSK to COFDM?
Normally the TS ASI from a satellite transponder can NOT be fed to a DVB-T modulator at once because of the bitrate.
A typical satellite transponder, 27500 symbol rate, 5/6 code rate, will have TS containing 8-10 TV programmes and a total bit rate around 50 Mbps.
Due to the nature of COFDM modulation in DVB-T the maximum bit rate you can use depends on the modulator settings according to the following table:
Constellation

Convolutional code

Guard interval

1/4

1/8

1/16

1/32

QPSK

1/2
2/3
3/4
5/6
7/8

4.9764706
6.6352941
7.4647059
8.2941176
8.7088235

5.5294118
7.3725490
8.2941176
9.2156863
9.6764706

5.8546713
7.8062284
8.7820069
9.7577855
10.2456747

6.0320856
8.0427807
9.0481283
10.0534759
10.5561497

16QAM

1/2
2/3
3/4
5/6
7/8

9.9529412
13.2705882
14.9294118
16.5882353
17.4176471

11.0588235
14.7450980
16.5882353
18.4323725
19.3529412

11.7093426
15.6124567
17.5640138
19.5155709
20.4913495

12.0641711
16.0855615
18.0962567
20.1069519
21.1122995

64QAM

1/2
2/3
3/4
5/6
7/8

14.9594118
19.9058824
22.3941176
24.8823529
26.1267406

16.5882353
22.1176471
24.8823529
27.6470588
29.0294118

17.5640138
23.4186851
26.3460208
29.2733564
30.7370242

18.0962567
24.1283422
27.1443850
30.1604278
31.6684492
So if we take 64QAM, 5/6 and 1/16 we must be below 29 Mbps.
The DTTV system can filter out TV programmes from the satellite transport stream to reduce the bitrate before it goes to the DVB-T modulator. How may programmes can we use in this case will depend on their individual bitrate but as a rule of thumb we can take four TV programmes per DVB-T multiplex.
Why should Service List be modified?
The majority of packets in the transport stream are carrying information about the variety of video and audio programmes and eventually data services being transmitted. There are other packets that form "tables". There are many tables definedby the DVB-TS standard but the service list is of special interest.
The service list shows the names of the different programmes included in a particular transport stream. Digital receivers will lean on this list to know what programmes need to be stored in the different memory locations so that users can recall them and watch them later on.
If we take a satellite transport stream (out from the DT-302 receiver for instance) and we connect it to the DVB-T modulator (i.e. DT-102) we must reduce bitrate so that it "fits" as explained before. This is done by setting up the DTTV in a way that we tell which programmes we want to let through the system or in other words which of them we want to stop.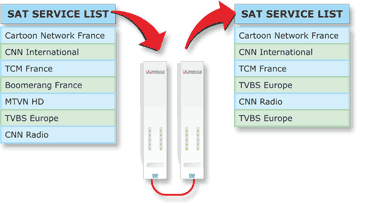 The DTTV system is able to rebuild the service list real time so that it matches the real programme content on the DTT side.
Digital To TV is compatible with Encrypted programmes?
If the satellite programmes are to be distributed FTA then you can use the DT-302s together with a CAM module and subscription card for the corresponding encryption system. DT-302 has a lid on the top side that gives you access to two CAM interfaces, one for each of the dual receivers in the DT-302.
Depending on the CAM module used several programmes can be opened with a single CAM. CAM modules are readily available for different encryption systems from your satellite equipment supplier.
We can also supply one type under the partnumber DT-902 which is actually a PowerCAMPro. It goes inside the DT-302 so it does not occupy extra rack space.
The DT-202s QPSK/COFDM transmodulators can be used for FTA applications where decryption is not necessary.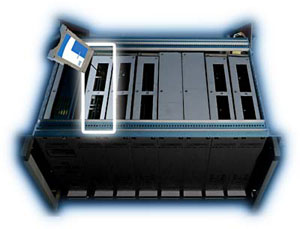 It is possible to use all types and brands of DVB-T receivers?
All DVB-T receivers available in the market in the form of external set top boxes or integrated in iDTVs are supposed to behave in the same way when they work with digital terrestrial television signals. In fact they are not. This is especially evident when the DVB-T signals have been formed using headends, similar to our DTTV system, with incoming signals from satellite or other analogue and digital sources.
DVB-T receivers in general require that the DTT signal, in addition to being technically compliant with DVB-T standards, includes some additional data that is fundamental for the proper reception of the various TV programmes and services.
Some of the QPSK to COFDM transmodulators available in the market for instance can only work with some types of receivers. Our DTTV system can manipulate the signal in such a way that all receivers are happy with it. This is due to the fact that we can interact with the following DVB tables:
PAT: Program Association Table
SDT: Service Description Table
NIT: Network Information Table
PMT: Program Map Table
Most DVB-T receivers are preset for the operation in the country they are sold. Some others ask you for "country selection" while you run the installation wizards. This fact may have an influence when tuning channels from our DTTV system.
When you run the autoscan the receiver will search for RF power then it will try to tune the channel and see what TV programmes are available. But some receivers will also check that the signal is in fact the expected one in the selected country. This is done by reading the NID (Network IDentifier).
Every broadcaster or service provider has one or more NIDs and the receivers know what NIDs correspond to what country. It is therefore very important to enter a "valid" NID in the DTTV system so that the receiver is happy.
BBC (United Kingdom): 12263
ARD (Germany): 12440